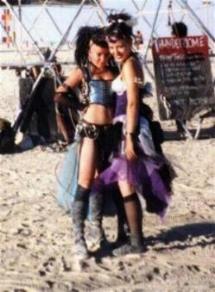 Kalico & Me at Burning Man 2001
Why "me"?
Why not? I figure that personal web pages are all just a big ego trip any way, especially one like this, with almost no useful information on it at all. This is just my opportunity to indulge - deal with it. Of course, now I've gotta figure out what the heck to tell y'all... You'd think with as much as I tend to ramble, talking here would be easy, but I'm finding it difficult to keep from sounding a) like a silly fangirl, b) like a blithering idiot, and c) like... William... Shatner... on a... bad... day!
The Neil Connection
About 10 years ago, my boyfriend at the time brought home Mr. Punch. I decided Dave McKean was a god among artists, and that Neil Gaiman was a writer I should look into more seriously. I had been interested in The Sandman for years, but didn't find out about it until somewhere around issue 20. Being me, I couldn't start with 20, I had to start with #1. It took a few years, and a roommate who worked at a comic shop, but I finally got my hands on the entire collection at once (and I don't think I've ever been so thankful to be unemployed as I was for those two weeks I locked myself in my room and read the whole series as far as it had been printed). I've yet to be disappointed by anything Neil's written since, though I've definitely become more attached to some stories than to others (Stardust in particular). Not that my life revolves around Neil's writing, but I do spend a lot of my free time collecting it, reading it, talking about it, encouraging others to join the cult... I've even had a Neil-based theme camp at Burning Man. No favourite stalker is complete without one. Seriously tho', it's all in great fun.
From Stardust to Faeriedust
My first Burning Man was 2000. The wind sucked. The rain sucked. My own personal drama that I left behind managed to follow me and turn the desert to Hell... and it sucked. Somehow, amidst the chaos, I found a need to return. The idea was to bring alive a camp devoted to all things Gaiman, with a fairy market (excellent for bartering trinkets for souls), a fan-art museum full of imagery and poetry, some storytelling thrown in for good measure, and one fluffy Titania to complete the picture. Now stick the camp within the borders of the Death Guild Thunderdome Camp, and you've got the Thingie Theme Camp (also known as 'Fairy Camp') - my ode to Neil... er, something like that. For 3 years I pitched the tent, staked up the art, threw around some fairy dust (along with some intriguing Sandman-related questions) and crossed my fingers that it wouldn't all fly away in the next whiteout. Looks like the days of Fairy Camp are pretty much done for now - stupid 'real life' getting in the way, but I will always treasure the memories and I hope I can go to many a future Burn.
Keep it in the family
So, not that anyone asked, but I'm totally taken. I'm even married. My boy is kind of the most important thing in my life, along with our little girls, Thing e, and Polly (website hopefully coming soon). I had to mention them.
Hair Today Gone Tomorrow
What's with the hair? I dunno, I just get bored with it pretty easily. I've had it nearly shaved off, down to my waist, and everything in between (and that's just in the past few years). It's been neon red, Leeloo (from the 5th Element) orange (even with blonde roots!), platinum blonde, green, royal blue, purple, magenta, black, brown... and that's not counting the extensions I often wear. For the curious, it's normally dark brown with a white forelock streak.
Strike A Pose
Since it's not obvious from the photos, I should probably mention that I do a bit of modeling. It's not something I plan my life around, but I like being in front of the camera. A lot of the shoots I've had so far are for tattoo exhibits (I have 3 tats) and for eyewear. If you're a photographer and you're interested in seeing a portfolio, email me.
Charity Case
So, I'm a quilter. But unlike a lot of other quilters, my quilt subjects aren't always flowers or streams or neatly stitched blocks (not that there's anything wrong with those, as I've done quite a few). The last big project was a Sandman quilt. It was made as a donation for the Comic Book Legal Defense Fund. The CBLDF is one of the coolest and probably one of the least understood charities out there. Check out their site. (Did I mention it's my favourite charity?)
That's basically it. Me, in a nutshell. I hang with the spooky people, I like stuff that has to do with Neil Gaiman, I try to make quilting a little more 'hip', I love music and comic books, and the kittens and my boy rule. Have fun meandering through the rest of site.